This content is not available in English, thus you were presented version in Russian.
КОНКУРС ФИНАНСОВО-ЭКОНОМИЧЕСКИХ ПРОЕКТОВ "БИЗНЕС-ИДЕЯ"
14.06.2018
28 мая 2018 г. на экономическом факультете Белорусского государственного университета прошел конкурс финансово-экономических проектов "Бизнес-идея".
Студенты БГУ представили свои бизнес-идеи и потенциальные стартапы профессорам, преподавателям и представителям банковского и бизнес-сообщества. В конкурсе, направленном на выявление и поддержку талантливой молодежи, приняло участие более 60 студентов. Наивысшие отметки жюри получили 5 студенческих команд (от 3 до 5 человек) за проекты мобильных приложений: "EASYPARKING", "Банк Тайм", "Браслет скорой помощи", бизнес-план "MR.ZOO", сеть торговых точек "Сила витаминов" по продаже свежевыжатых соков.
Победителями конкурса стали студенты 3-го курса специальности "Финансы и кредит": Булынко Мария, Карпицкая Мария, Максимчик Анастасия, Назаренко Юлия, Подоровская Анна.
Поздравляем победителей конкурса и желаем им успешной реализации представленных идей!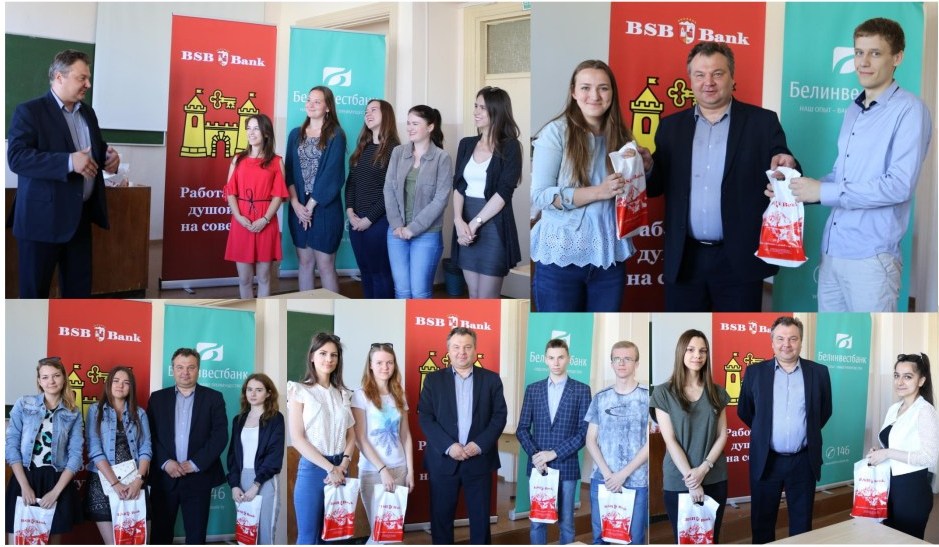 EXCHANGE rates

11.11.19
12.11.19
EUR EURO
2,2636
2,2602
USD US Dollar
2,0434
2,0495
RUB 100 Russian Rubles
3,2112
3,2073
Currency basket (USD, EUR, RUB)
0,2615
Test your financial literacy
News
08.03.2019
Dear friends! We offer you a presentation developed for conducting financial literacy classes with schoolchildren of 8-11 grades during the Global Money Week, which will be held in Belarus, like all over the world, from March 25 to 31, 2019.
Actual information
16.04.2019