This content is not available in English, thus you were presented version in Russian.
МТБанк запустил новый проект, чтобы помочь белорусским белкам пережить зиму
24.01.2015
Каждая белка трудится весь год, заготавливая запасы на зиму. Но с наступлением холодов многие из них забывают, где оставили свои тайники. МТБанк призывает помочь шустрым зверькам своим интеллектом!
Вы можете присоединиться к МТБанку и помочь совершить небольшое чудо для этих прекрасных созданий, пройдя простой тест на финансовую грамотность. За каждый ваш верный ответ обитающая на сайте белка получит орех. Заработанные орехи можно добавить в общую копилку, поделившись результатом с друзьями в социальной сети. А за каждые 100 орехов в копилке МТБанк разместит кормушку для белок в лесах Беларуси. Белки ждут вашей помощи на http://www.pokormi-belku.by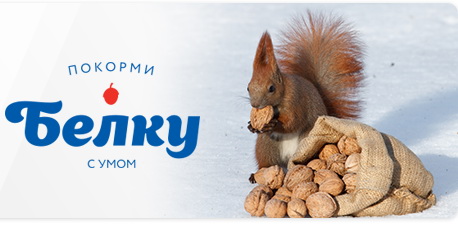 EXCHANGE rates

25.05.20
26.05.20
EUR EURO
2,6172
2,6133
USD US Dollar
2,3986
2,3995
RUB 100 Russian Rubles
3,3424
3,3514
Currency basket (USD, EUR, RUB)
0,2885
Test your financial literacy
News
08.03.2019
Dear friends! We offer you a presentation developed for conducting financial literacy classes with schoolchildren of 8-11 grades during the Global Money Week, which will be held in Belarus, like all over the world, from March 25 to 31, 2019.